'Big Jim' Brooks formed the Ejected in 1980, and the band released three great EPs, and two albums, the first of which, A Touch Of Class, I bought in 1983, when all I wanted to do was learn barre chords and play along to obnoxious records, and generally annoy my neighbours. The anthemic football-terrace like songs, the primal rhythms, and the straight to the point lyrics [1] would soon grow on me, and the album become part of my youth, as did the EPs, Noise for the boys, Have You Got 10p? and Press The Button.
Why tell you this? Well, fast forward thirty or so years, and all the punk vinyl was in boxes upstairs – because it was all in the past, and with Youtube you can just play anything you want, right? But then my 14 year old daughter only discovered the records, and it was like she'd hit a goldmine, and she was like, 'Oh my god dad, why didn't you ever tell me about this [and that] band? And [pulling out the EJECTED]…'These are brilliant!'. To my surprise, I could still sing every word of every song on A Touch of Class like it was only yesterday – even though I was sat in my armchair, smoking a pipe and reading the Financial Times, of course – proving that a good song always sticks, I guess. So, seeing as this old music still has such an impact on the 'young tribes of England' so to speak, this month I finally got in touch with Jim Brooks to let him know how much we both had a good time throwing beer all over the lounge and singing 'I don't Care'.
In this chat, we ask what the self-confessed 'working class 'erbert' and, frankly, lovely bloke, has been up to since the band split in '84. It turns out…three more albums, numerous gigs all over the world, and he's written books – one on the Ejected, and a novel, When I'm Dead and Gone. And, what does he think about the band as he looks back, and as he looks forward? And have family been supportive? Put away the tofu and hoummus, put on your denims and steel toecaps, and we'll go to Dagenham, Essex, and hear him out.
Hello Jim. How's life for you at the moment?
Hiya, Scott. I finally got an hour or so to answer these questions, I've written loads of notes in front of me because they're really good questions, and I wanted to have a good think about them, to do 'em justice. And the missus is out at Tescos!
I guess this journey all started with a guitar? What guitar did you have then, and what do you have now?
Back in the day, I played a red SG copy Columbus, I think it was. I bought it with a tax rebate in the first year of my…when I worked back in 76. And it served me quite well. So it played on all the singles and the first album. And yeah, I don't play [ guitar ] in the band now because the boys do all the music. And because, well I, don't think I can play fast enough [anymore]. But I do have a couple of guitars – I got a Yamaha acoustic….and I bought an Ibanez cheap electric guitar….that's just for composing songs whenever I feel like composing on the little amp. So that's what I use nowadays. And like I say, I don't use guitar much these days.
Ejected played from 1980-84, and you knocked out some great streetpunk classics in that time. How do you feel, looking back at those years now? Are you still in touch with any of the old members?
About the ex members, Gary, Kev, and, Paul. When we did the reunion back in 2014, the guy got in touch with me. The only one of the three that I knew was me mate Gary, but he never really was into playing….he left the band at one point, and came back and did the second album, as a favour. So I had to get new guys in. But luckily I knew a guy who played in a band, a young guy, Paul, and he said 'I've got another guitarist and a drummer', so I drafted them in thinking that 'Nah this won't be any good'. But they're really intelligent….good lads….really nice guys. And they love the sound, and they like playing fast. And I don't even know if the other members know the Ejected have reformed and have been going since 2014!
And we're all dying to ask – did those three ladies on the cover of 'A Touch of Class' stay with you?
Yeah…the ladies on the cover of the first album, my ex wife, my first wife, her….she died of breast cancer back in 2002. And so she's on the cover there. And Paula Richards was Gary's girlfriend at the time she was in the Gymslips – if you ever look at any Gymslips videos, he can be seen in the background, with her, but they're not together anymore. And the punky looking girl Sarah was drafted in at the last minute 'cause it was supposed to be our girlfriends and wives on the covers with us ( laughing ). But he….his girlfriend dumped him so he had to get his cousin in who's…quite sexy, actually, as it goes! And she stood in on the day, and was really nice – really shy girl – but made the picture look really good.
Did you identify with any other punk bands at the time?
I was a teenager through the seventies and that was for me the best decade of music ever. I grew up with pop music and glam rock, hard rock I love KISS and ACDC and Thin Lizzy and all that. And then towards the end of punk, new wave just was superb…I was a Dr. Feelgood fan, and I loved Alice Cooper…got all these albums, so I was influenced by everything. The bands that the Ejected are influenced by is more or less the UK Subs, Cockney Rejects, Wire and definitely the Ramones, who were the first in. I liked all the main punk bands – I like punk bands big and small, I mean the Damned, Sex Pistols and the Clash… I love them. But I've got loads of albums by little bands as well that are quite likely still going. So yeah, a bit of everything, but I would say Subs, Rejects, Wire, Ramones.
Is it true that the crowds sometimes threw coins at the stage whenever you played 'Have you got 10p? How about the impending move to a cashless society?
Yeah….getting coins thrown at me ( laughing )….and writing a song called Have you Got 10p? – I suppose it just invites it, doesn't it? Well it did in the old days….we played at the 100 Club with the 4 Skins and we did that [song] at the end, and we got pelted – I think it was like loads of skinheads who thought it was really funny. And if you check out our Rebellion 'Have you Got 10p?' appearance recently, right at the beginning, you can see a guy right in front of the camera, throws it and it hits me right in the head, a 20p piece…. and a really good shot it was, and you can see me go across the stage, before we start, pick it up….I did think about throwing it back but then I thought I'll probably hit the wrong person but yeah….so we did have, we do now and again get people that chuck 10ps at us. I've also checked in the hotel as in Blackpool. And they'd googled me and they've said 'we got a present for you' and I've opened it and it was a 10p piece which was quite funny, but you know, I get used to it, I quite like it.
And 'Have You Got 10p?' is actually about how punk lost its pride, what with all the scroungers at gigs, etc…right?
Believe it or not Have you Got 10p? was written quite quickly, really. Me and Gary used to go to a lot of gigs in the 70s and there was always punks coming up to you outside the tube station or outside the marquee. And they always said 'Have you got 10p?, that's what the, you know, the going rate was then, to buy a cup of tea or, or to get, you know, to get anything worth having. And we was just in the pub, and I said 'that'd make a great title for a song'. And so I wrote it. And it was the first single and everybody seemed to love it. And John Peel played it on his programme, which was a real honour for us. Sold 5000 copies, I believe. And whether I'm in Blackpool, or in Sweden, or I'm in Scotland, there's always someone to say, Jim, Have you Got 10p? and I have to go 'Nah, not me'. And it's…it's just part of the Ejected's, sort of ethos, and it was a really simple song and it did really well for us.
What prompted the change from 'real arsehole' ( album version ) to 'poor old soul' on the single version?
Hoping for some radio airplay, ha ha . Years later Simon Mayo played on his daytime radio one show during the day. I was at work at the time and a few colleagues came running to me "Is this you Jim?"
Why do you think so many young people from all over the world like UK 80s punk? You played at Rebellion a few years ago and must have been amazed at the crowds? Do they ever tell you why they love the music so much? Maybe it represents something unique? Maybe music is just too pretentious these days, and the old stuff is better?
We've done Rebellion, three times, believe it or not – 2014, 2016, 2019…and then we're even on the official rebellion DVD as well doing 'What happened in Brighton'. But it's lovely playing in front of a big crowd. I much prefer it….and playing in America, to really big crowds, and they go mad. And it just heightens the excitement – there's nothing worse than standing in a place like Hackney, like playing to like 10 people, including the support band, it's awful. Ejected folded in '84. We got back together in 2014 because of a guy who loved the band back then, and he managed, he's like a bit of a promoter, a bit of a wide boy, but he got us a Rebellion first gig and he got us a gig in America at Connecticut – TNT festival. So that's how it started really.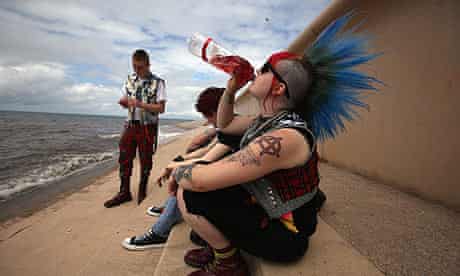 The second half of that question is about the fans, old and young. And I love chatting to the fans. I'm a smoker…I'm always outside the gig beforehand, chatting and drinking, having a smoke with them all. And you can talk to the young ones who sort of ask you questions, but it's the old fans that come up who remember the UK subs gigs at the Bridgehouse from years ago that I love talking to. I talk to fans more than I talk to the members of the band, because of they're being young guys and…they don't really want to hang around with the old guy, and so yeah, but I think most of the fans just just love that music, there's no music like it. it's gone underground now – you can't find it on, you know, on television or radio anymore. So that's why…
The lyrical message was quite straightforward in those days. Lots of songs about national pride, working class pride, traditional roles etc… Do you think that if more MPs over the years had listened to the Ejected, they would have understood the working class a bit better?
Yeah….about class, on the Touch of Class album, and I get asked this a lot, but really, we were just working class 'erberts, the band at the time, me and Gary – he worked as a cutter in East Ham, and I worked in a warehouse in Dagenham, most of my life, I've always had jobs. And you just think politicians are just so out of touch, so…quite a few of the songs are about, you know, 'us against them' sort of class thing, but it was not a real…I'm not a political animal….neither of us are really political, or, you know, into any sort of theme in the band. It was just a good thing, a good idea for the title of the album, a Touch of Class, which I believe I got from a Glenda Jackson film, which was with Donald Segal, I believe ( laughing )…. I just thought, that's a good, it's a touch of class. It's not all about class. So that's why that was chosen.
Well, I guess you had a position on Brexit, Jim? Is there still reason to sing 'England ain't Dying, England ain't Dead?'.
I don't think I've ever been asked a Brexit question by anybody. I couldn't care about it. It puts me asleep. I never voted. I never listened to any of the shit about it. And just tuned out whenever people talked about it. It's one of those things, we're just gonna have to wait and see how it impacts. But I think in that question you put about how it affects England and is England dead. But, you know, I've travelled around with a band I've been to Sweden and to America and to France and Germany and you go to these places, Spain, and you land and they're all multicultural. You could be in the middle Heathrow airport or in the middle of Madrid airport doesn't, you know, everywhere is, everywhere speaks all the different languages now. So I don't think England can be defined like that anymore.
What did you do inbetween Ejected splitting in 84, and reforming in 2014?
Obviously you know I'm not rich and famous or anything, I might be a bit of a legend in the punk circuit now and again where people know me but I've always worked a job ever since I left school. I've been married and divorced twice. I've had a kid from each marriage. I had a reggae band after the Ejected for a few years, because I was into UB40 and I wanted like to add saxophone and keyboards, and I've even got a demo somewhere. We did really well – we almost got a deal with the lot that did a group called Brilliant up in Beckenham, but I couldn't keep nine people together…two girl singers, you know, it was so hard getting people….that I just gave up in the end and I just, you know, lived my normal life, getting mortgages, getting divorced, you know, all the normal stuff people do, you know, until we reformed in 2014.
The band were called Jojo Republic. And we had a full set, we played gigs at Blackwall tunnel club quite a lot, and I think we played Dingwalls, a few places like that. And it was lovely. It was really different watching people dance to the songs, instead of pogo and punch each other!
How has society changed since you were younger, and are things better or worse? How does it feel being an older guy these days? Has it all been plain sailing, or not?
I'm 62. I'll be 63 this year. And it's a weird question, because I think just getting older nowadays….it's just made me more tolerant. Obviously, I'm less physically strong as I used to be, so I can't confront people like [so] easily back when I was young and that, so you're more wary now about where you go around, and if people talk to you and stuff, so, but I'm a bit happier, I think, you know, I'm less angry than I was back then. And you go to gigs now and the sound quality is really good on stage, the people are friendly, they all want to be there, they all want to see you…and they will pay to see..it's not like they're going there for a fight or anything. So, I suppose as I'm older, I'm enjoying it more. But you know, now and again, I think ah, I wish I was like 20 again, 1979…if I could go back, that's the year I'd go back and do things maybe a bit different.
Was your father an example to you – for better or worse? Did you get support from your family for the band?
Making your parents proud – I never understand this. I've never….my parents hated punk rock. They hate me being in a band. My dad wanted me to be in a bank. He worked at Fords all his life. Miserable bastard, You know, bringing up four kids….working shift work…and they showed no interest. And even though I've told him stuff, showing them albums and that, but I bet even now – I mean, I know they're old – but they could probably never tell you the title of an album or even the name of my band ( laughing ) if someone asked, probably. And it never was a thing for me. I just wanted to do the music for myself. It was the first thing I think I was ever good at – writing songs, and fitting into the punk thing. And, you know, I did it for myself. I struggled. We had a band, a couple of bands before The Ejected, which I might tell you about. But to make people proud, I've made myself proud – I've got a body of work, you know, six albums out there.
You had a band before?
Yeah, I had a band called Dawn Patrol for a while. And I was knocking off the girl singer in the band. But then she….we got really good, and we had loads of songs and we were sounding superb, and she was a great frontman, and then she decided she wanted to be with the drummer! So I broke that band up and that's why we become the Ejected. But they did release a 12 inch single, Dawn Patrol, which is available. And there is an Ejected track on there called 'What Am I Going to Do', because we collaborated, and I think we both liked that track, so we both nicked it!
You have written a book…was that something you were planning for a long time? How difficult was it? Has it been well received? Are there any more in the pipeline?
I've been writing for most of my life, but seriously for the last 10 years or so. Always wanted a novel published and I've got loads of stories you know, novels, sitcoms….but the hardest thing isn't writing something, it's getting something published. It's like you're in a band, the hardest bit is getting a record deal. So I'm really proud of this book, it's based on a true story about my uncle that disappeared forty years ago and was never found. And there are elements of truth in it and it's sold… at the moment …we checked yesterday, 48 copies in three months. So. best seller list…..watch out for Jim Brooks, hahaha! It's available for download on Kindle, or as a paperback from Amazon…nine quid, I think the paperback is, and I get 57 pence a copy, for every copy I sell, so it's not gonna make me rich but I am incredibly proud, I know it's self published. But it is something I can hold in me hand, and say….it took me a year or so to write it. It is a work of fiction, even though it's based loosely on a true story, and it's very readable, and I'm very proud of it.
Maybe you could tell us about your new line up and your three albums?
When we reformed in 2014 we wrote some new songs as well as rehearse, you know, old Ejected songs, and asked Gary Bushell if anyone would, you know, sign us again, and he managed to get us in touch with Randale records. And she does all the, she's German….Diana…she does all the bands. And yeah, we've released three albums with her over the last four or five years. And we write good catchy songs. I write most of the songs, and the boys do their bit with the music. And if you listen to them, I think this is 42 songs on the three albums. And there's like, maybe five that are bad. The rest are just really catchy and can be sung or in the memory. And if you look on YouTube, songs like Cops are Coming, Alien Abduction, they're all just as good. Now I'm not writing them just because you know, I think it's an ego thing. They are good Ejected songs. So have a listen.
You might want to check out Birmingham band Rotunda, The bass player writes for oldmansmettle. I think they were influenced by the Ejected, so in a way it's partly your fault they exist… 🙂
A lot of bands are influenced by the Ejected…there are some bands that do a totally Ejected set I've seen on YouTube, which is very flattering, but there's a Japanese band called The Erections that we played with in Florida, this time last year, and they love us….and their artwork looks like ours. But I think bands should be themselves. A lot of punk bands that have supported us are just fucking noise. It's just so noisy! And they think that's all you got to do. But it's the ones where you go away singing one or two of their songs as well. I can't understand why Cock Sparrer are so popular…like you know, [they] play these great big stadiums, almost like stadium gigs, and I couldn't sing you one of their songs. Whereas most people know Young Tribes of England or Have You Got 10p, you know, I'll live on….because people can remember that. So just be yourself.
Jim, looking back, would you have done anything differently? Anything you would say to the young Jim? Any advice for young punk bands starting out?
I like this next question about what advice would old Jim give young Jim, because we talk about this, me and the missus sometimes about what the old one, you know – I tell myself not to get married, I tell myself not to give up the Ejected, just you know, get new recruits, you know, keep going. I tell meself to buy property, because, you know, the property thing went so mad in the 80s, and if I had just kept a few of the flats I lived in, or mortgages on the house I'd be quite rich now instead of a skint bugger. So….. I would tell myself to enjoy it more. Because nowadays, the travelling and the sweating profusely because I'm overweight and the hangovers and everything is, is you know something, it's good playing gigs, but you suffer for it when you're older. So I'll tell you, I'm Jim, enjoy it more. Get out there more.
So, to wrap up then. What next for Jim Brooks, and the Ejected?
I don't think there's anything next really…COVID has really killed off the music scene, the pubs and clubs and everything. And it's going to take a long while before it gets back to normal. I'm jobless at the moment, like I said, my girlfriend's got a job, but she's on furlough. So we're well skint. And to the point where you know, she might not be able to pay a mortgage in the next few months, we're living on handouts from our families. And I could be homeless, so you know, sleeping on someone's settee or in cardboard city. So I'm not even thinking about no more albums of gigs or anything. And the bass player just bought a house and had a baby with his girlfriend. They've all got jobs, the job as a music teacher and stuff. So I think Ejected is not going to be a priority for anyone which is sad, because I've got a load of new songs that you know, I've written over the last year in lockdown, but I don't think anything's gonna happen with it.
If you could change the world, in a sentence?
I could change the world in one sentence….that's really baffled me. I think if anything, when I'm angry about the world or things going on, it would upset too many people to know how I think about the world. And in a way I think COVID has taught everyone a lesson. Because I used to hate, well I still do, travelling in airports, driving to gigs all around the country. There's traffic and people going everywhere. No one seems to want to stay home for five minutes. You know, I'm quite happy sitting watching a box set. The weekend watching the football on the telly all the live games, but people are mad they want to go everywhere and do anything. And this is like a warning to them. You know, sometimes it's better just to stay home and think about things and take stock of what really matters. But I'd say to people, you know, in one sentence…. 'Just be careful from now on…'
Any words for new and old Ejected fans?
Yeah, the first thing that came into my mind is…all download and buy 'Have you got 10p' and get it to number one to get me some fucking royalties! ( laughing ) And maybe I could stay in the flat for a little bit longer. That would be good! ( laughing ) Nah, the Ejected fans are superb. They're all over the world. I mean, if you add them up all over the world is probably only like 20,000 of them but bless them, they come to gigs. Unless we're in London where no one seems to care about me. I get recognised more on my travels than I do in Dagenham and Essex where I was fucking brought up most of my life. Yeah, they're great people. I hope I see them all soon at some gig or other, but they're online, they ask lots of questions on the Ejected Facebook site. They talk, it's really nice, and I'm happy to talk to any of them any time really. So they are you know, a lovely bunch of people.
Anything you wished we'd asked?
One question you didn't ask and reading about you and your daughter and about both of your favourite Ejected song being 'I don't Care', which amuses me because it's a good song. But when I listened to it now, I can almost imagine John Otway singing it. It sounds like a John Otway punk song you know, and Wild Willie Barratt, and it was back when I sort of needed to, I think to write a B-side, so I did it really quick. And it's weird, that it's sort of rare…well not rare but an unplayed, untalked about song that you both like, and like my daughter, she likes all my old stuff….. my seventies and eighties stuff and it's funny, what you can, you and your daughter can, you know, bond over. My favourite Ejected song to perform live is 'I'm Gonna Get a Gun', a song that took me literally ten minutes to write, using the riff off Three Little Fishes, the children's nursery rhyme sort of song! And it's the song that everyone sings and when you're at a big, you know, like Rebellion or something, and you sort of sing the chorus 'and when I do', and I just put the microphone out there, and [singing like the crowd] 'you better facking run', and it's one of the best feelings….it's easy to sing, there's not a lot of words in it, it's easy to remember, and it always always goes down really well. My son's favourite Ejected song as well. I love lots of Ejected songs. Some of them have got too many words in there so I don't like doing them on stage because it wears me out and I have to keep drinking but yeah, ( laughing ) that's my favourite Ejected song if you wanted to know.
Contact Jim at https://www.facebook.com/TheEjected
Ejected B/W live shots by Camille DuBose https://www.facebook.com/camilledubosephotos/
.
.
.
.
.
Lyrics to impress an angry youth? How about 'We hate the fucking Germans, we hate the fucking Dutch, we hate the fucking Riot Police who kick you in the crutch'? From Football Song, A Touch of Class, 1983.