Stig C Miller, guitarist with legendary English crust punk act Amebix has had a fair bit on his plate since the band ceased activity in 2012, so it was awesome to hear of his return to the studio, albeit for just one track.
For those of you who didn't know Amebix, mid 80s English punk, particularly in the areas of Wessex and the southwest had this dark, pagan thing going on. A factor in many bands art and lyrics was a strong link with the land, the henges, stone circles and monuments, and perhaps a romanticised yearning for an escape to a primal past. At the time, there was a big traveller and squatting scene, a hateful press and police force, Thatcher calling you the enemy within, and I would venture that few people who experienced it would truly say they ever wanted to go back to that period. Personally, I was glad when the 80s were over – not a good time to be young and skint – but it did provoke some amazing music. And Amebix managed to elevate that dark pagan power into the spotlight of the music press with two albums: Arise! and Monolith, both of them possessing so much Motorhead. Hawkwind, and Killing Joke driven heaviness, that aside from the obvious DIY spirit, many old timers were scratching their heads and wondering why on earth it was called punk at all.
So, skipping forward to 2018, it is six years after the release of Sonic Mass, Amebix' last album before breaking up, and Stig is back with one track on this split 7″. What is so striking about Rising Sun, is that we perhaps get to hear, from the main guitarist himself, how he always wanted his music to sound. One-man bands do give you that singularity of vision after all – and yes, Stig plays everything here. The track has the same intensity of Amebix, but paradoxically the shell of it seems to be inhabited with the spirit of someone at peace with himself, a kind of calm anger: back from the brink, stronger and wiser than before, and, I daresay, with a hint of middle finger.
The opening riff, two propelling triplets and a tuplet, takes us forward with distorted guitars, and hangs there awhile like a stubborn, determined beast, dropping down to an embryonic chorus section, and then back again with the words, 'Every day the mask is slipping, behold the ugly face of truth that lies beneath, and over time they want us begging, to rub our noses in the twisted narrative…' and then a full chorus, of 'I'm a Rising Sun, I'm a Rising Sun, I'm a Rising Sun, back from Oblivion!' Excellent stuff – the track seems immense in one way, but is actually quite short, at just under four minutes. Let's hope Stig is in a position to record again soon.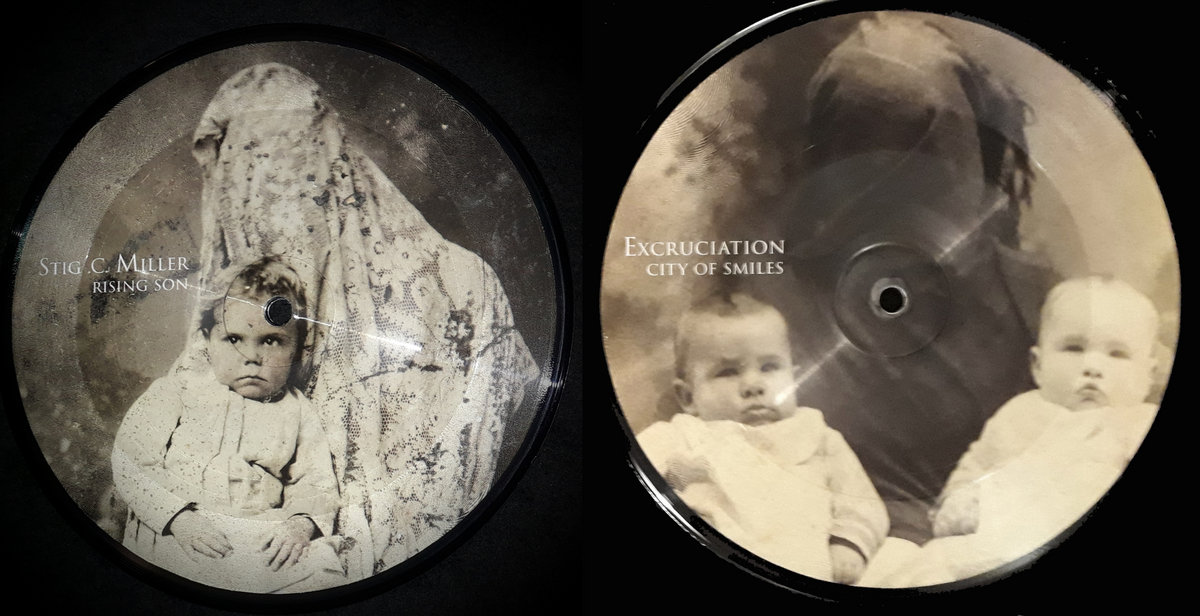 I know very little about Excruciation, but the fact that they are Swiss does not surprise me at all, as we get tinges of Celtic Frost in their doom death that they have apparently been peddling since the mid 80s. I don't mean they sound like Celtic Frost, they don't, they just have those elements that we now take for granted in this genre, but were quite ground breaking at the time. In fact if anything I am getting more of a whiff of Samael about them. How does it sound? Track City of Smiles is 'sprechstimme' vocals narrating over drum and clean guitar, a slow and bold bass riff dragging a heavy distorted guitar along with it, building and thickening, the vocals becoming more and more tonal and aggressive, and then back to a thin textured passage, before moving into a marching section with a very cool solo. My words cannot do it justice, but it really does have a charm, and a full length by this band I think should be on my list of things to investigate.
So, two dark doomy atmospheric tracks that both unfurl and develop into something bigger, on one beautiful 7″, by two acts that are surely worthy of your cash sacrifice.
https://stigcmiller.bandcamp.com/